Oaties, what are you up to?
Officers, are you holding a chapter event? Let us know so we can advertise it on the Calendar of Events page. Send us details on what your chapter is doing and any pictures you might have. We'd love to share them on the website! Email alumnirecords@omegatausigma.org.
Alumni, what are you up to? Let us know if you have started a new position, been part of an exciting project, or published any papers! We can share your success stories with other alumni and current students. Use the Submit News Items page or email alumnirecords@omegatausigma.org.
---
Job Opening: Veterinarian–Small Animal Associate
Privately owned practice, established 21 years
Looking to add a fourth associate veterinarian to a busy, well established small animal practice. Our practice has recently moved into a beautiful newly constructed 4,000 SF facility, with a well-established clientele, and a dedicated/motivated/ long standing staff. Advanced medical equipment includes: Digital record software system, Digital X-ray, in-house Abaxis CBC/chemistry machines, laser therapy unit, IV pumps, full anesthesia monitoring equipment. Our facility offers 5 large exam rooms, expansive 4 table treatment room, separate feline ward, separate isolation ward, double surgery suite, 3-sided windowed doctors' office with full view of treatment room. Open full day Monday-Fridays, till noon on Saturdays and closed Sundays; local emergency hospital takes after-hours calls. Mobile referral ultrasound available, and local/traveling board certified surgeon available for consult or surgery in our hospital. Position is full time, but part-time considered. Candidate should have interest in general surgery, internal medicine, preventative health care as well as demonstrate strong client communication skills. Individual interests are encouraged. Some experience is preferred but willing to mentor a new grad as well. Salary based on experience; benefits include paid vacation and holidays, CE allowance, liability insurance, veterinary association membership, DEA license fee. Wilmington is a wonderful pet-friendly, coastal community with many public beaches, water activities and golf courses, a historical downtown on the river front with restaurants and many local breweries, UNCW, local airport, shopping, theater, only 2 hours to Raleigh, 1 hour to Myrtle Beach. Both Owners are alumni of The Ohio State University, class of '94 and class of '95.
Ideal candidate will have 1 or more years' experience, but an exceptional new grad would be considered. Must hold degree of Doctor of Veterinary Medicine, or equivalent, and be licensed to practice in North Carolina. Looking for a team player who enjoys their job, likes to work hard and have fun too. Positive attitude, attention to detail, confident in medicine as well as surgery and comfortable with clients. Willingness to learn and grow, with a commitment to high quality care. Plan to enjoy and lead a highly motivated staff which supports each other every step of the way and works efficiently as a cohesive team. We promote a team based approach and a professional work ethic.
If interested, please send resume and cover letter to ForestHillsVetHospital@gmail.com
Or call with questions….Jill Gigliotti, DVM 910-362-9955
---
Updates from Delta Chapter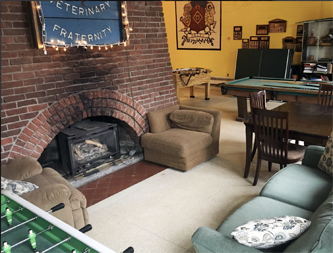 The Deltas take great pride in the ΩΣΤ house, located in Guelph, Ontario, just a convenient two-minute walk from the Ontario Veterinary College. Vet students have called these sturdy walls home for decades. The house has 17 bedrooms, a common room, two full bathrooms, a large kitchen, and our famous party basement, "The Hole,' The house is always looking for new veterinary students to fill the rooms of our graduated brothers and sisters. Visit our website for a tour of the house and to view examples of bedrooms. Please contact Isabelle Kwon (kwon@uoguelph.ca) for all rental inquiries.
---
Can You Help Dr. Markley Retire?
Dr. Larry Markley works for All Creatures Veterinary Clinic & Lodge, a practice in the Wadsworth and Rittman areas of Ohio. They are a full-service clinic, with every bell and whistle, including their own CT. They treat their veterinarians in a unique way, paying a salary plus percentage of gross. This equals approximately $140,000 to $160,000 per year.
Dr. Markley is nearing retirement and would like to train a new graduate in the practice. He plans to spend three to six months training, depending on the graduate's level of comfort to go solo, and will take himself out of the percentage system during the training, allowing the graduate's percentage to begin immediately.
Dr. Markley points out that he is a Presidents Club member, and that $3,000 of that goes to ΩΤΣ yearly. If ΩΤΣ can help him sign a veterinarian, he will increase that for a year or just make a $5,000 donation if he signs a referral.
Dr. Markley thanks you for your time. Get in touch with him if you can help him out: 330-234-4831.
---
Updates from Beta Chapter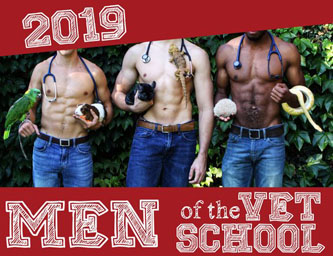 We are delighted to share the 2019 "Men of the Vet School" calendar with you!
This year was especially fun to shoot! We have some amazing animals (and men) featured, and we look forward to sending them out hot off the press in the coming weeks! They're available for purchase on our Etsy page.
Proceeds go to the Cornell University Animal Hospital's Patient Assistance Fund, which helps fund life-saving procedures for our furry friends whose owners could not otherwise afford treatment and to help fund events put on by ΩΤΣ Beta!
---
Updates from Beta Chapter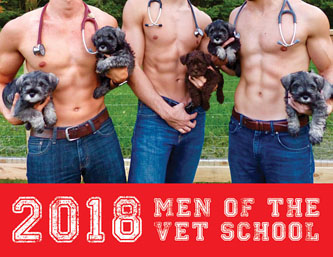 The 2018 Men of the Vet School calendar is here! It can be purchased on Etsy for $20.
The Beta Chapter at Cornell University has once again released their Men of the Vet School Calendar to raise money for great causes. The calendar supports the fraternity and its fundraising efforts for multiple charities, including the Patient Assistance Fund at Cornell University Hospital for Animals. This fund benefits members of the community and their pets by providing financial resources to owners who cannot otherwise afford the medical care their pet needs.
---
Updates from Beta Chapter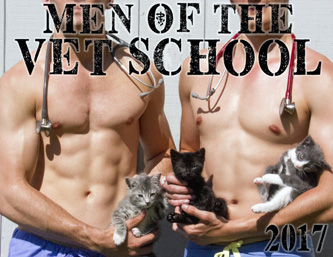 2017 MEN of the VET SCHOOL CALENDAR
The Beta Chapter at Cornell University has once again released thier Men of the Vet School Calendar to raise money for a great causes. The calendar supports the fraternity and its fundraising efforts for multiple charities, including the Patient Assistance Fund at Cornell University Hospital for Animals. This fund benefits members of the community and their pets by providing financial resources to owners who cannot otherwise afford the medical care their pet needs. The calendar chairs, Taylor Parry '19 and Samantha Palmer '19, not only got more students involved this year, but a larger variety of animals. Along with the kittens, puppies, and horses, camels, llamas, alpacas, turkeys, and snakes were also featured in the photo shoots this year. The Dairy Barn calves will appear again, but arguably, the most exciting animals in this year's edition are kangaroos. You can also watch the fun video Scott Bertoldo '17 put together to show off all the fun we had making the calendar. Calendars are for sale on Etsy for $20, or you can reach out to menofthevetschool@gmail.com for larger group orders and cheaper rates.
---
Updates from Gamma Chapter
As many of you already know, our profession and our fraternity have both suffered a tragic loss recently. Our brother David Hilton, a member of the Class of 2018 at The Ohio State University College of Veterinary Medicine and of the Gamma Chapter of Omega Tau Sigma, passed away suddenly and unexpectedly. The fact that he took his own life is unfathomably more regrettable, because he was loved and respected by nearly all who knew him. All of us mourn his loss deeply, and our love and support go out to his family, his classmates, and his fellow Oaties.
It is his family's wish and our own that David not be remembered solely for this one event in his life. David devoted his life to the pursuit of a degree which would have enabled him to reach out healing hands to the world every day and to leave it a little less pained and a little less chaotic than he found it. There is no higher goal to which we as present and future doctors can aspire, and it is an honor and a privilege to continue our own pursuit of that calling in his memory. Included in our rights and responsibility therein is the chance to guide younger vets and vets-to-be on the long road to their degrees and to enable them, however we can, to obtain them.

To that end, David's family and The Ohio State University are working to establish an endowed academic award in his name: the David J. Hilton Memorial Scholarship. We would like to support them in this in any way we can, and we have devised a few means for individuals to contribute as they wish. If you would like to make a monetary gift to the scholarship fund, you may send your donation to the University c/o the address below. If you would like to wear your support and contribute to the scholarship fund as well, you may place an order for a memorial-design shirt that we are offering to all OTS students and alumni. Those orders may be collected by your chapter treasurers and submitted collectively (if you are a student), or you may place your individual order (if you are an alumnus) by contacting Iota Chapter's fundraising team with your sizes/selection(s). The shirts will be $15 each for current students and $20 for alumni (to cover individual shipping costs), and they will be available in navy, grey, or maroon (in keeping with OTS's and OSU's colors).
However you choose to show your support, whether it be through a gift or through a message of support to those affected by this loss, your consideration will be welcome. Whatever you do, we hope that you will remember for yourself and for those around you that you are never alone in your struggles. You might feel that no one else understands exactly what you are facing each day, but you should not believe that you are forgotten or alone. Please do not hesitate to reach out to any of your fellow Oaties or to anyone else you trust before you begin to feel hopeless. We are strong individuals in many ways, but we are immeasurably stronger when we step forward into each new day together.
Please direct monetary gifts to the following address:
Ohio State College of Veterinary Medicine Office of Advancement
In Memory of David Hilton
1900 Coffey Road
Columbus, OH 43210

May peace, blessings, and strength go with you always, brothers and sisters. Thank you for all that you do.
---
Updates from Zeta and Pi Chapters
For Halloween this year, the Zeta Chapter of OTS hosted a party at our house with Pi Chapter! Admission was a small monetary donation or a pet-related donation for victims of an apartment fire that happened in Columbus, Georgia, a week earlier. We collected several toys, bags of food, and food bowls, along with a total of $75 between donations at the door and a bake sale we did that day at the Auburn CVM!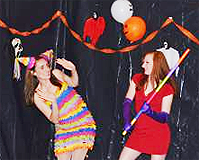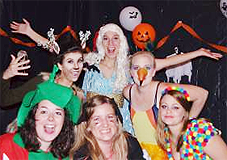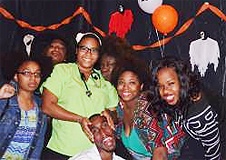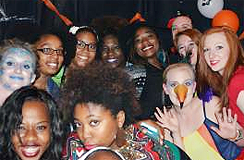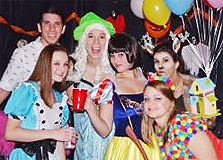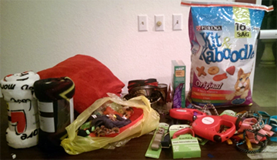 ---
Zeta Chapter Updates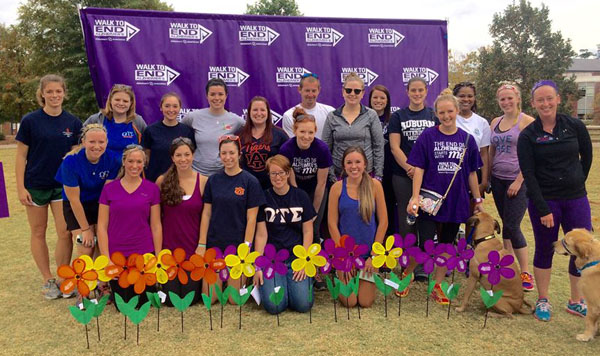 On October 24, OTS Zeta partnered with Auburn's SCAVMA chapter to participate in the Walk to End Alzheimer's event in Auburn. The walk raised a total of $37,151.43, well over their goal of $25,000. It was hosted by Auburn's Sigma Kappa Fraternity, and the OTS/SCAVMA team raised more money than every other team, aside from the hosts! Through generous donations from friends, family members, and alumni, as well as funds raised from SCAVMA's Tails 'n Trails 5K in September, we were able to raise just over $3,000! The money raised will go toward finding a cure for Alzheimer's disease through the advancement of research, providing care and support for those affected, and promoting brain health to reduce the risk of dementia. Thank you to everyone who joined the walk and to those who made donations, and a huge shout-out to Kylye Roberts from the class of 2018, who organized our team!
---
Zeta Chapter Updates
CONTINUING EDUCATION
Zeta Chapter hosted its first Dog Patch Continuing Education Conference. With nine sponsors, 31 attendees, and five speakers, the event was a success. One of the speakers, Dr. Byron Blagburn, has requested a heart worm and cardiology conference.
---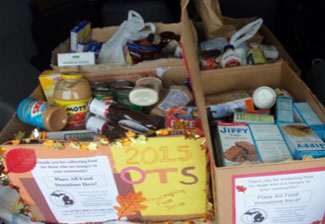 Omicron Chapter Updates
PHILANTHROPY NEWS
Omicron Chapter had its biggest fundraiser in history, its ninth annual 5K Canine Cruise, this past October. It raised $1,700 for the Ingham County Animal Control. Other philanthropy projects included visiting senior citizens with well-behaved pets, an annual Thanksgiving food drive, a "stuff the bus" event at the Lansing Jaycee, the Christmas pet calendar, and a "pet photos with Santa" event.
WORKING FOR THE WEEKEND
School work and fundraising don't leave a lot of extra time, but Omicron Chapter still knows how to have fun. The chapter even found time for apples, donuts, and wine tasting during a fall social.
---
Eta Chapter Updates
FEBRUARY 2012 BASEMENT UPGRADES
Eta Chapter spent the entire month of February making massive upgrades to our Burnett Street basement. We stripped carpet and tile, fixed water damaged bricks, painted the walls and floors, upgraded electronics, painted a chalkboard wall and a vibrant mural featuring the UGA CVM logo, and rearranged furniture to make the basement the ultimate place to play and party. These upgrades were financed completely through member contributions.
---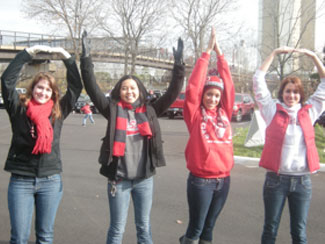 Gamma Chapter Updates
HOSTED A SUCCESSFUL GRAND COUNCIL 2012
Gamma Chapter successfully hosted the Grand Council this past November at their newly renovated chapter house!
FALL PHILANTHROPY REPORT
Gamma Chapter focused on community service this fall by collecting yogurt lids for Yoplait's Save Lids to Save Lives campaign. Members are aspiring to surpass last years collection efforts, which resulted in $100 worth of lids. Around the holidays, members set up a Salvation Army Angel Tree in the vet school lounge. They committed to fulfilling 75 gift tickets and encouraged participation from other vet school students, faculty, and staff.
FALL SOCIAL REVIEW
Somehow, members also found time to have fun. Gamma Chapter hosted a highlighter party early in the semester, allowing new members to meet other members. In October, the chapter held its eighth annual Ox Roast, which included food, live music, and college football on the big screen TV. In November, members were invited to an important presentation at the chapter house with showcased the progress of the house renovations. After the presentation, the chapter held a tailgate for the Ohio State vs. Indiana college-football game. Finally, members also mustered together a kickball team. Unfortunately, they will have to step up their game to make playoffs next year.
---
Theta Chapter Updates
SPRING PHILANTHROPY REVIEW
In addition to chapter events like the senior sale and Easter costume party (planned and executed by the pledges), Theta Chapter packed the spring semester full of philanthropy events. Event Wednesday, Theta members accompanied their four-legged friends to the Clark-Lindsey Retirement Community; both people and pets brought comfort to the community members with their company.
Theta Chapter participated in the annual Boy Scot Day at the veterinary teaching hospital, helping 20 to 30 Boy Scouts earn their veterinary medicine badges. Theta members led sessions on parasitology, imaging, surgery preparation, and physical exams. Additionally, Theta Chapter helped another 20 to 30 Boy Scouts earn their dog care badges at the event, focusing on dog history, husbandry, handling, and general care.
Theta Chapter organized its annual "Pet Wash" day, historically one of its most successful fundraisers. Theta Chapter raised $641.55 for the Champaign County Humane Society; it also earned $115 in tips for its own coffers.
---
Delta Chapter Updates
UPCOMING ANNUAL ALUMNI GOLF TOURNAMENT
Every fall, Delta Chapter holds an alumni golf tournament (nine holes and dinner)! If you wish to attend, contact Nick Buchok at nbuchok@uoguelph.ca.
UPCOMING ANNUAL ALUMNI HOCKEY TOURNAMENT
Every January, Delta Chapter holds an alumni hockey tournament. If you wish to join us, please contact Ryan Appleby at rappleby@uoguelph.ca.
UPCOMING ANNUAL WINE AND CHEESE
Every year (usually in February), we hold a Wine and Cheese party with OVC faculty and clinicians. Contact Rebecca Sterns at rsterns@uoguelph.ca
---
Zeta Chapter Updates
HEIFER INTERNATIONAL FUNDRAISER
The Zetas held their annual conference April 8-9, in conjunction with the end of their work for the Heifer International Fundraiser. Zetas collected donations to help third-world countries acquire livestock to provide a source of family income and develop community resources. For more information about the project, visit the Heifer International website.
For information on the Zeta Chapter Annual Conference in April, visit the Calendar of Events page.
---
Oaties in the News
OTS HOLIDAY PROJECT SPURS GENEROSITY
"Omega Tau Sigma (OTS) developed a community service project for the holiday season, designed to involve the College of Veterinary Medicine community and make a positive impact on the lives of families in need. Community service chairs Ashlie Saffire and Jordan Vitt, third year veterinary students, selected the Salvation Army's annual Angel Tree program. This program collects toys for children of families who cannot afford to purchase them. The toys are chosen in advance by the children. Eligible families around Columbus sign up for the program, and their gift requests are then distributed to various 'Angel Trees' around [the] city, sponsored by other charitable organizations."
Read the entire article here.
---
Alumni News
Dr. Joseph Impellizeri is a 1994 graduate of Cornell University's College of Veterinary Medicine. He completed a small animal medical and surgical internship at Colorado State University 1995. After five years in small animal primary care and emergency medicine, he completed a three-year ACVIM oncology residency program at the University of Illinois and Sacramento Animal Medical Group and became a Diplomate in the American College of Veterinary Internal Medicine (specialty in oncology).
Dr. Impellizeri is the only full-time, board-certified veterinary oncologist in the Hudson Valley, also just one of fewer than 300 veterinary oncologists in the world. Through his efforts, we can offer the latest advances in chemotherapy, cancer vaccines, minimally invasive biopsies, and advanced imaging including outpatient ultrasound.
Dr. Impellizeri also heads the center's Bone Marrow Transplant Team for K9 Lymphoma and is the principle investigator on several clinical studies, including a collaborative effort with Vassar College, where he holds an academic position as an adjunct professor of biology.
Breakthrough in canine cancer treatment, the Telomerase Vaccine
The Veterinary Specialty Center of the Hudson Valley (VSCHV) is the sole United States center investigating a telomerase vaccine for clinical use in canine and feline cancers.
The VSCHV is investigating the efficacy of treating naturally occurring dog and cat cancers with a genetic DNA telomerase cancer vaccine followed by DNA vaccination using a plasmid encoding telomerase. The non-funded study, which is led by the veterinary research team of Dr. Joe Impellizeri from VSCHV and Dr. David Jemiolo from Vassar College, will enroll dogs and cats with various cancers including lymphosarcoma, hemagiosarcoma, carcinomas, and others in a non-placebo controlled study.
The use of a telomerase vaccine targets a protein whose enhanced expression is a common characteristic present in 85–95 percent of both human and animal cancer cells. Telomerase is not expressed in most differentiated cells making it an ideal target for cancer therapeutics. Upregulated telomerase allows for limitless replication thus "tricking" the cell to avoid apoptosis (programmed cell death) in lieu of continued replication of a malignant oncogene. "The vaccine may be used in naive (non-treated) patients but we feel the effect will be limited to absent," says Joe Impellizeri, DACVIM (oncology), principle investigator of the student and medical director of VSCHV. "Our goal specifically in canine lymphosarcoma patients is to obtain clinical and preferably molecular remission with standard of care chemotherapy and follow with the vaccine."
Therapeutic vaccines are an important progressive approach which, when combined with other therapies, can improve long-term control of cancer. A variety of immunization technologies are being explored. Among them, genetic (DNA-based) vaccines are emerging as promising methodologies to induce immune responses against a wide variety of tumor antigens, including telomerase. Recent findings show that combinations of different modalities of immunixation (heterologous prime/boost) are able to induce superior immune reactions as compared to single-modality vaccines. Our experimental vaccine harnesses this type of innovative combination.
Genetic vaccines are not new but newer methods to improve greater DNA uptake has led to in-vivo electroporation (DNA-EP). Inoculating plasmid DNA encoding for a protein antigen by means of a simple intramuscular or intradermal injection currently offers a vaccine approach that is easily performed, safe for host, and relatively inexpensive. However, target cells lack the co-stimulatory molecules needed as part of the CTL activation process, therefore DNA vaccination is in general poorly efficient unless an inflammatory stimulus is applied in parallel. This mode of administration through DNA-EP will allow maintenance of anti-tumor immunity. This approach uses brief electrical pulses that create transient "pores" in the cell membrane, thus allowing large molecules such as DNA or RNA to enter the cell cytoplasm. Immediately following cessation of the electrical field, these pores seal and the molecules are trapped in the cytoplasm without causing cell death ... VSCHV plans to stydy these therapies over the next five years with a focus toward grant approvals and clinical/commercial availability. As of now, the research team has their fifth patient. Dr. Impellizeri concludes, "We are in the early stages of some exciting research with a new technique that gives hope to our cancer patients. Published research from Europe on the treatment of canine lymphosarcoma with this same vaccine has shown improved overall survival times vs. standard of care. Whether it is the vaccine or another variable, it is not clear, but our studies will determine that while helping treat patients along the way."
To learn more, visit the VSCHV website.