Welcome!
Omega Tau Sigma encourages and fosters the development of well-rounded, ethical veterinarians and through them creates a better profession on the basis of friendship, cooperation, and respect for their fellow professional.
OTS imparts to its members a desire to serve faithfully and zealously the varied needs of our animal kingdom and inspires these members with the fact that the knowledge of the job well done and the regard of clientele and colleagues far surpasses financial gain.
OTS gives aspiring young veterinary students a chance to analytically survey the veterinary profession to ensure their best talents will be utilized in this profession before they have invested their valuable assets, youth, time, and ambition in the pursuance of an occupation that might leave their best talents dormant.
OTS instills the principles of honesty, morality, resourcefulness, and fraternal love in all its members and, last but not least, gives these young embryonic veterinarians a chance to learn the much valued trait of living happily with a group for the mutual benefit of all.
A letter from your new president: Let's start the conversation . . .
Dear Oaties:
I am writing this message to encourage your support of our great organization. If you are like me, the time you spent in Omega Tau Sigma as an active member was some of the best you had as a veterinary student. Also, most of my really good friends from vet school are OTS members, either from Kappa Chapter or other chapters I met during Grand Council. At the time of my graduation in 2010, I had hoped I'd be able to give back to an organization that helped encourage my growth as a well-rounded veterinarian, and now I'm the newly elected Grand Council president.
This year at Grand Council, two topics that kept coming up were how to encourage alumni support and how to help active members connect with alumni for networking. Obviously, some of this will fall on individual chapters to do some legwork and invite alumni back for CE, Homecoming, or state VMA meetings. It is my hope that I can encourage your involvement as well. I have grand visions of Grand Council being a self-sustaining trust that has the ability to give scholarships to more of our members and to continue to promote the development of the best veterinarians in the world.
Did you realize that there are nearly 10,000 OTS alumni? I didn't—until Grand Council this past year. This doesn't include the members whom we've lost track of. We, as members of Omega Tau Sigma, make up 10 percent of veterinarians.
Many of you who want to support OTS but don't know how. Imagine if each of our members gave $10, or even $100, once a year. We would have an organization that would be able to provide unprecedented support services to actives and alumni alike. That's a goal I'd love to reach!
I want to keep this letter brief; I well know as a practicing veterinarian that our free time is limited. So, to sum it up: please donate to help support this great organization. Please contact me if you have ideas or questions—or if you want to be involved. The Grand Council executive board would love to put together an advisory board in the future to help, and if we are able to raise the funds, we will need the help. I am excited about what our alumni can do to help support OTS and for what we can do to help support all members.
Please "give back" to OTS by supporting us this year—and in the years to come.
Fraternally,

Seth Vredenburg
Kappa '10
vburg1078@gmail.com
Grand Council 2017
2017 OTS Grand Council
Virginia-Maryland Regional College of Veterinary Medicine
October 13–15

See all the details.
Download the registration form today!
Welcome Rho Chapter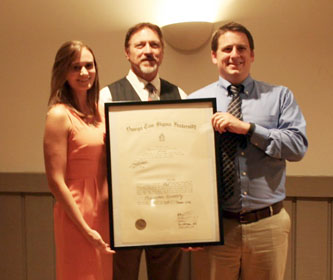 The International Veterinary Fraternity of Omega Tau Sigma welcomed Rho Chapter at the College of Veterinary Medicine at Midwestern University (Glendale, Arizona) on Saturday, October 22, 2016. Chapter Advisor Dr. Donald Noah and members Sara Sykes Kendig and James Sobotka were in attendance for the full member induction at the 2016 OTS Grand Council closing banquet. Contact rho chapter at otsrho@gmail.com.
Alumni, we need you!
Alumni, please remember that we depend on you--all 10,000--to help support our OTS actives. Please visit Alumni Dues or Charitable Fund to pay your dues and make a gift today. Thank you for your support!

A Thanks to Our Sponsors!
Omega Tau Sigma would like to thank Royal Canin for being a sponsor of this website.
---
Would you like to know what Oaties are up to?
Oaties, please send us your news! Did you recently get a new job? Have you written a paper? Did you open your own business? Let us know! Use the Submit News Items page to share your news with us. Send pictures or papers to alumnirecords@omegatausigma.org. Your exciting contributions help us keep our website content fresh and interesting, and help members stay connected with one another.
Check out our OTS News page to read brief updates from other chapters.