Welcome!
Omega Tau Sigma encourages and fosters the development of well-rounded, ethical veterinarians and through them creates a better profession on the basis of friendship, cooperation, and respect for their fellow professional.
ΩΤΣ imparts to its members a desire to serve faithfully and zealously the varied needs of our animal kingdom and inspires these members with the fact that the knowledge of the job well done and the regard of clientele and colleagues far surpasses financial gain.
ΩΤΣ gives aspiring young veterinary students a chance to analytically survey the veterinary profession to ensure their best talents will be utilized in this profession before they have invested their valuable assets, youth, time, and ambition in the pursuance of an occupation that might leave their best talents dormant.
ΩΤΣ instills the principles of honesty, morality, resourcefulness, and fraternal love in all its members and, last but not least, gives these young embryonic veterinarians a chance to learn the much valued trait of living happily with a group for the mutual benefit of all.
Meeting our new president
Lauren Bufe, Ρ'21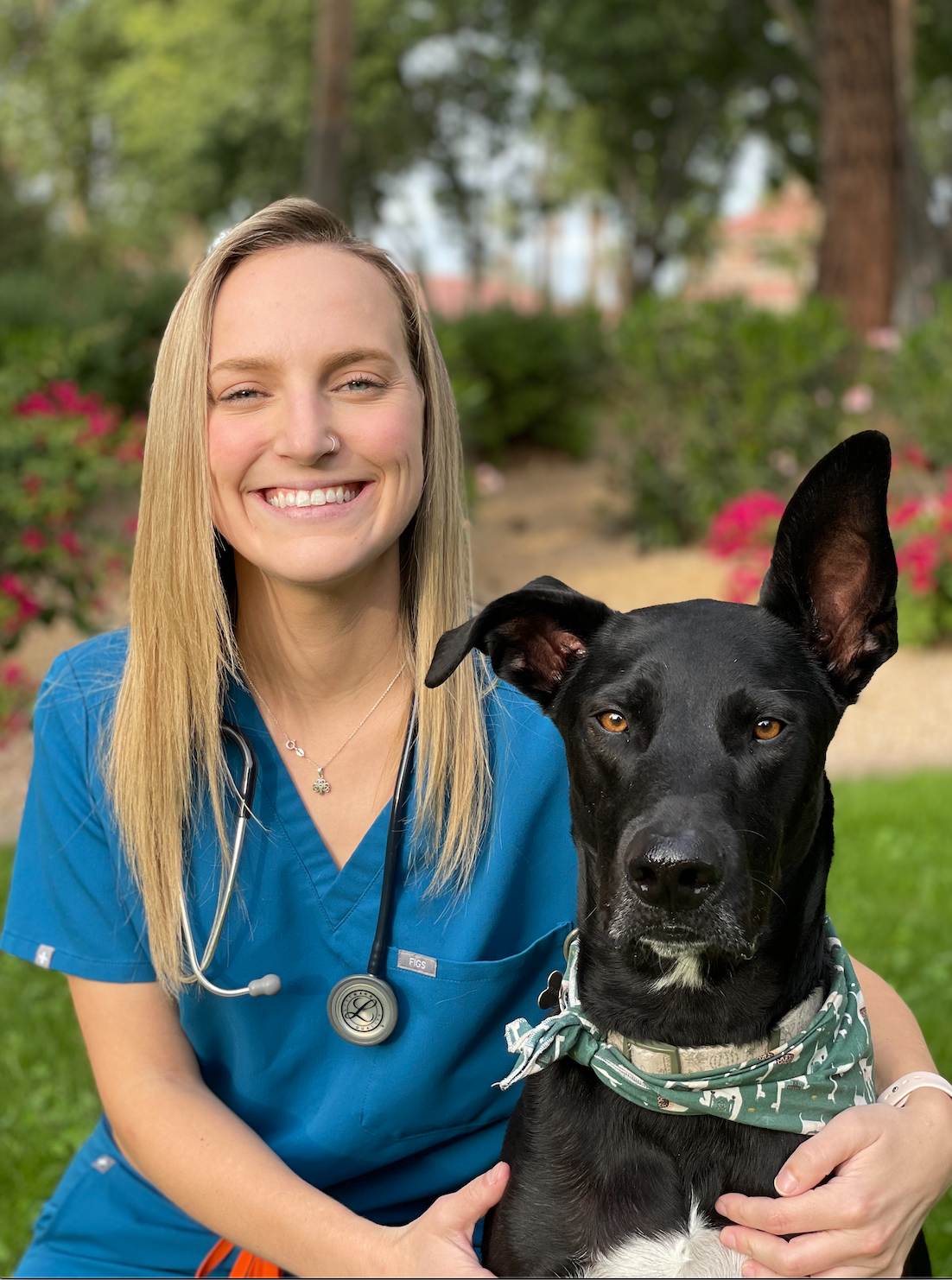 I grew up in a small town in Massachusetts and earned my bachelor's degree in biology from Boston University in 2015. After graduating, I worked as a lab technician Dana-Farber Cancer Institute in Boston studying lung cancer before pursuing a career in veterinary medicine. In 2017, I moved to Arizona to attend Midwestern University's College of Veterinary Medicine. I pledged the Rho Chapter of ΩΤΣ within my first few weeks of vet school, and became very involved in the chapter from the start, serving as vice president and later president. After graduating in 2021, I joined a local small animal general practice as an associate veterinarian. My professional interests include dermatology and preventative medicine.
I have a handsome Lab-mix named Bo, a goofy (yet adorable) Golden Retriever named Judy, and a wonderful fiance, Kyle. On my days off, I stay busy by hiking, running, or cheering on my beloved New England sports teams from across the country.
ΩΤΣ Grand Council President's Report: Getting Back to Business After a Two-Year Hiatus
Fellow Oaties,
It is a privilege to write my first address to you all as your newly elected ΩΤΣ national president. I joined ΩΤΣ during my first year at Midwestern University, and went on to become vice president, and later president, of the Rho Chapter. Much of my time in veterinary school was dedicated to ΩΤΣ, and those moments were some of my most memorable. After graduating in 2021, I joined the national executive board in the role of vice president, and ultimately was nominated to the role of president at the 2022 Grand Council last month. I am honored to follow in the footsteps of my predecessor, Dr. Mrotz, as she steps down from her position to continue her career as a newly boarded Diplomate of the American College of Laboratory Animal Medicine.
The past two years have presented unimaginable challenges to us all in our daily lives, as well as to each of the chapters while they were trying to uphold the core foundations of our fraternity. Many of our chapters suffered losses in membership and engagement while university restrictions were in place regarding group gatherings. The pandemic made it impossible to host Grand Council due to travel restrictions and public health risks. Fortunately, we were able to hold Grand Council once again this year, thanks to the hard work and dedication of the Gamma Chapter. The reunion allowed chapter leaders to share ideas about strengthening fraternity bonds, leading in the veterinary field, and serving their communities. Some of the amazing accomplishments our chapters have made this year despite the unprecedented setbacks can be found in this newsletter.
While it was inspiring to see chapters working together, it was also hard to hear about some of the financial difficulties some chapters are facing since the pandemic. Now more than ever, your support is crucial to help those chapters that are still struggling. Grand Council would not have been possible this year without past alumni donations. Thanks to your generosity, after a two-year lapse, we were able to award nearly $12,000 in travel grants this year to encourage maximal attendance. And the reunion was fantastic!
Contributions from alumni will continue to strengthen ΩΤΣ on both the small and large scale, and will allow each chapter to reach its full potential. I also encourage you all to show your support by attending the 2023 Grand Council next fall (further details to come), and to consider running for a position on the national executive board (vice president is currently unoccupied). We all held great pride in being Oaties during vet school, and that should not end once we graduate. Thank you to all of you that have continued to show your support for our great fraternity. I am looking forward to the future of ΩΤΣ and cannot wait to see what this next year brings.
Fraternally,
Lauren Bufe, DVM, Ρ '21
Volunteer
We are looking for alumni to volunteer to be on the Grand Council executive board. The position of vice president is currently vacant, but running for any position is encouraged
2023 Grand Council
Grand Council 2023 will be October 13–15, hosted by the Theta Chapter at the University of Illinois. More details to come.
2022 Grand Council Chapter Award Recipients
John P. Donahue (Sustained Excellence):
Beta, Cornell University
T. C. Fitzgerald (Most Improved Chapter):
Kappa, Iowa State University
Robert Vesper (Community Service):
Delta, University of Guelph
2022 John C. Gordon Award Recipients
Michelle D'Alessandro, Γ'24
Emory Triance, Γ'24
Kaitlyn Krus, Ο'24
Kelsey McCarthy, Β'23
Join us on Facebook
Alumni, we need you!
Alumni, please remember that we depend on you—all 10,000—to help support our ΩΤΣ actives. Please visit Alumni Dues or Charitable Fund to pay your dues and make a gift today. Thank you for your support!

A Thanks to Our Sponsors!
Omega Tau Sigma would like to thank Royal Canin for being a sponsor of this website.
---
Would you like to know what Oaties are up to?
Oaties, please send us your news! Did you recently get a new job? Have you written a paper? Did you open your own business? Let us know! Use the Submit News Items page to share your news with us. Send pictures or papers to alumnirecords@omegatausigma.org. Your exciting contributions help us keep our website content fresh and interesting, and help members stay connected with one another.
Check out our ΩΤΣ News page to read brief updates from other chapters.